Spring 
THIS WEEK'S MEMORY VERSE: 

Week 3
"All of you, be like-minded, be sympathetic, love one another, be compassionate and humble." 
1 Peter 3:8
2020 Term 4:
STARTS:    Monday 12 October
ENDS:       Friday     11 December
NOTICES:
ALERT LEVEL 1 

: SERENITY FOR TERM 4:  
SERENITY: The state of being calm, peaceful and untroubled
Term 4 always whizzes by as it's a very busy time with students completing final assessments, exams and preparations swing into top gear for end of year trips, celebrations and of course our School Campus's Prizegiving Ceremonies.
Within the busyness of this season that can sweep us swiftly along, I pray we'll have the grace, strength, wisdom and shalom peace to overcome every challenge that comes our way and we'll find ourselves with plenty left in reserve to enjoy and celebrate with others as we head toward the Christmas Festive Season. May we shine the Light of Jesus Christ, radiate Abba Father's Love and be led by and in the Power of Holy Spirit to do mighty exploits for His Glory.
Tihei Mauri Ora  –   Let there be Life!
TERM 4: WELCOME BACK! 
Tena koutou whanau ma – warm greetings to everyone
Welcome back to school for the final term for the year – what a year it has been – I've heard it said that this is the year that is taking two years to complete
This term it is business as usual and we are very much focussed on final preparations for our senior students to be ready to participate in their External NCEA Examinations, some of which will be digital exams. There is also a lot of work to be done to ensure our systems are ready for them, and that we are well positioned for Course Provision next year when quite significant changes to NCEA will take place.
We held a Teacher Only Day on Tuesday 27th October (the day after Labour Day) where our staff worked with the feedback you (and our students) have given us regarding the future Vision for our kura. If you have not received a survey link (sent out at the end of last term), or would like to give us your feedback please email me davidr@kcs.school.nz and I will forward you the link.
We are still facing many challenges related to our Covid19 Alerts and Lockdown, one of which is student attendance. Please may I remind everyone about how important it is for students to attend school regularly – let's finish the year on a high note
Nga mihi mahana
David Rogers (Principal)
SCHOOL PRIZEGIVINGS:
Kaikohe Campus Seniors Years 11 – 13 Prizegiving:
Friday 13 November 2020 – 11.30 am
Waimate North Campus Prizegiving:
Thursday 10 December 2020 – 10.00 am
Kaikohe Campus Junior – Middle School Years 1 – 10 Prizegiving:
Friday 11 December 2020 – 11.30 am
NEW SCHOOL FACEBOOK PAGE:
Kia ora Whanau,
We would like to invite you to join our new Facebook page. Here you will find highlights from our week, important notices and snapshots of the learning. Please scan the QR code below to join our group, we would love to have you onboard.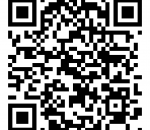 BOARD OF TRUSTEES – 2020 PARENT ELECTIONS: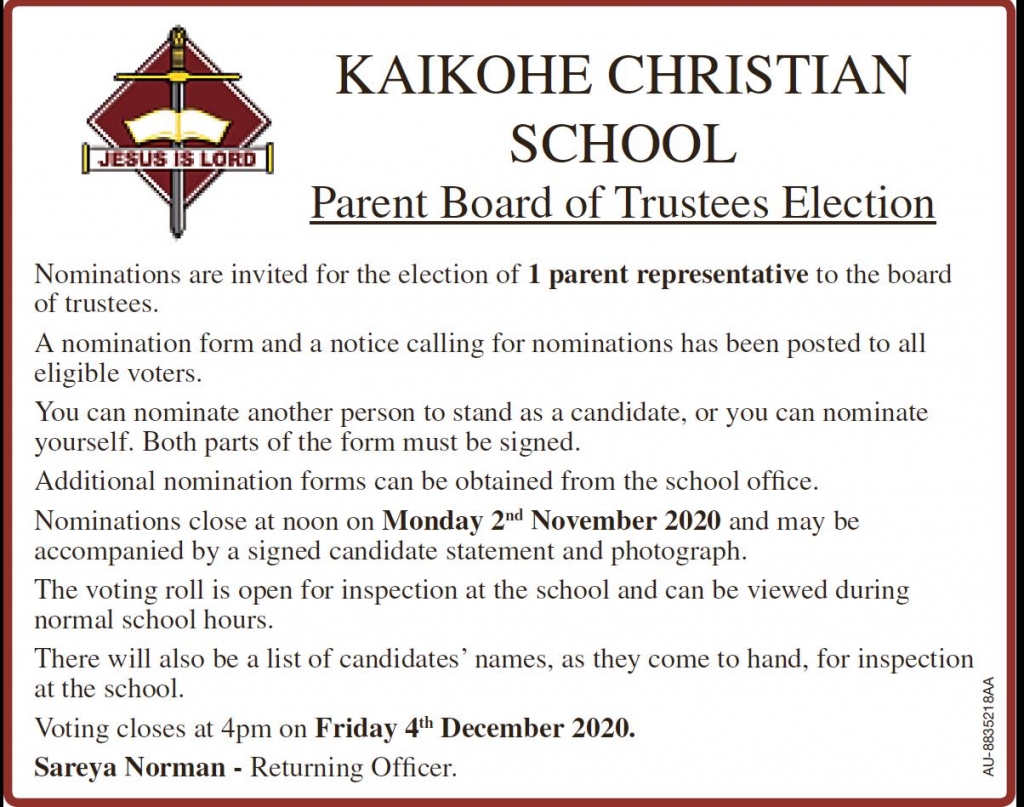 SCHOOL UNIFORM ORDERS CHANGE OF SUPPLIER DETAILS:
NEW NAME:   Uniform Hub 100% New Zealand Owned & Operated
Address: 577 Kamo Road, Kamo, Whangarei 0112
Email: info@uniformhub.co.nz
Phone: 09 435 2576
Opening hours: Mon – Fri 8.30am – 5pm & Sat 9am-12.30
Online shopping at: https://uniformhub.co.nz/ or https://uniformhub.co.nz/pages/find-your-school
Facebook page: @northlanduniformhub
HEADS UP – LICE!:
Please check your children for head lice. Lice have nothing to do with personal hygiene.  Lice love everyone, including the cleanest kid in the class!
A head louse can survive up to 4 weeks on a person's head and lay 10 eggs a day!
Since that means lice can multiply fast, it's a good idea to treat head lice quickly.
Lice can be hard to get rid of.
Lice are insects, so the treatments for lice are basically insecticides or pesticides.
Medicated lice treatments usually kill the lice and nits, but it may take a few days for the itching to stop.
As an alternative to chemical treatments, you can try wet combing – using a fine-tooth comb on wet hair to remove nits and lice.
Kids Can has provided the school with nit combs and nit shampoo.
If you would like some, please ask at the School Office.
ALERT LEVEL 1 – 10 THINGS YOU NEED TO KNOW:  
1) Schools are open and must operate safely.
At Alert Level 1 the virus is contained in New Zealand but not overseas.
We need to have systems and practices in place in case COVID-19 reappears in our community.
2) There are no restrictions on personal movement at Alert Level 1 – alll children and staff should be at school.                                                                                                                 
The only people who will need to stay away are:
those required to self-isolate
individuals who health authorities have asked to stay away while waiting for a test result (most people will be able to go back to school/work while waiting for a result)
children, students and staff who are unwell
3) Testing remains a crucial component in preventing an outbreak.
If a child or staff member is sick, they should stay home.
If they have cold or flu symptoms they should call their doctor or Healthline on 0800 358 5453 for advice about getting tested. If recommended to get tested, they should do so.
4) Schools will close for cleaning and contact tracing if there is a confirmed case who was infectious when at school.
Your Director of Education will work closely with you and health authorities should this occur.
Please contact your Ministry regional office if you hear of a confirmed case in your school community but haven't been advised about it by health officials.
5) You must continue to support contact tracing through the display of QR Code posters and your visitor register, attendance register and timetable.
If a new case does appear in your community, your contact tracing processes will support the speedy identification of close contacts of the confirmed case.
Please encourage your community to check-in using the NZ COVID Tracer app including when they are doing pick ups and drop offs.
6) There are no restrictions on numbers at gatherings.
Schools, like workplaces are not considered to be gatherings.
Physical activities including cultural and sporting activities, practices and events can go ahead.
7) Fundamental public health measures continue to apply:
Hand hygiene
Cough and sneeze etiquette
Regularly cleaning and disinfecting high touch surfaces.
8) There are no restrictions on domestic travel.
People should avoid using mass transport if sick, awaiting a result from a COVID-19 test or required/recommended to self-isolate.
Individuals travelling to, through and from Auckland by plane are required to wear a face covering.
9) Face coverings continue not to be required when in school.
This includes school transport and charter buses hired by the school to transport students and staff to and from school.
Anyone who chooses to wear a face covering in any setting should be supported to do so.
10) Your Ministry regional office team is available to provide support.
David Rogers (Principal)
HIGHLIGHTS / ACHIEVEMENTS:
SUCCESSFUL SCHOLARSHIP RECEPIENTS 2020:
Our Congratulations go out to Mikaere Joe Tito-Brown and Deborah Turner for achieving Scholarships (as noted below), that will go towards their studies for 2021.  We are so proud of you both and pray you will be abundantly blessed in your education and in every area of your life journey ahead. Nga Mihi!
JACK SWINDELLS ESTATE SCHOLARSHIP AWARD ACHIEVEMENT:
Congratulations to Deborah Turner who has received the above Scholarship award of $6,000.00 to support her tertiary studies in 2021.
AUCKLAND UNIVERSITY SCHOLARSHIP ACHIEVEMENT:
Congratulations to Mikaere Joe Tito-Brown for receiving a $15,000 scholarship to attend Auckland University in 2021.
EVENTS:
7 NOVEMBER SATURDAY 12pm – 2pm OUTREACH EVENT KAIKOHE:

7 NOVEMBER 6 pm – 9 pm FIREWORKS EXTRAVAGANZA KERIKERI:
16 NOVEMBER – 9 DECEMBER NCEA EXAMS BEGIN:
The Ministry of Education have changed the start of the external examinations for NCEA to a later date.
NCEA exams will now begin on Monday 16 November – Wednesday 9 December.
This is to help relieve some of the learning time pressure students and teachers have experienced due to home learning during the COVID19 Lockdown period.
We want to thank whanau who worked hard during the lock down period by getting involved with the learning needs of their rangatahi.
We all are working hard at school to ensure the best outcome for our rangatahi.
Please continue to keep engaged with the learning of your children, as research shows that strong whanau, student and school connections make the world of difference to future learning outcomes.
This year has challenges before all of us, but we are aiming to build on what we have learnt together, to plan the pathway ahead.
You can see the revised 2020 Examination Timetable and the Whanau Survey on our school website www.kcs.school.nz
Whanau support and input is vital and very much appreciated.
Please also complete the whanau survey, as this will help gather your voice too as we reflect on what has been learnt in a much broader sense over the past 2 months.
If you have any NCEA queries, please contact:  Yvonne Vujcich 09 405 2626
3 DECEMBER 4.30 pm – 6.30 pm KAIKOHE CHRISTMAS IN THE VILLAGE:
Kia ora koutou katoa,
Only 95 days until Christmas which means the Kaikohe Christmas in the Village is even closer! We would love for you all to enter a float in this years Christmas in the Village
@ The Pioneer Village, Kaikohe, Parade Starts 5.30pm

FREE FAMILY FUN
Face Painting
Kids Entertainment
Magician
Food Stalls
Lolly Scramble
and of course SANTA will attend!
Enter a float – theme this year is MOVIES!! – let your imagination run wild – Disney? Marvel? Dr Suess or even Mad Max? Get creative!
Prizes for 1st prize, recognition for 2nd and 3rd
To enter email admin@kaikohe.town or call me 021 124 0382
Run by Kaikohe Business Association with support from Pioneer Village Kaikohe
Nga mihi
Anika Whapshott on Behalf of Kaikohe Business Association  021 124 0382
DECEMBER 2020 – JANUARY 2021 FREE HOLIDAY SURF PROGRAMMES:
Good news! We have funding for our popular summer holiday surf programme at Tutukaka & Taupo Bay, this is free for 11-18 year olds who school in Northland/Far North. For those aged 7-10 years there is a charge.  The programme is designed to get kids active over the summer holidays and into a sport they can enjoy for years to come.
SCHOOL BUSINESS AS USUAL REMINDERS:
ATTENDANCE:
Reminder:  Parents / Caregivers please phone our School Office on 09 4011 873 or email by 9 am in mornings should your child / children be absent.
Should we miss your call, please leave a message on our answering phone:
Please advise the following details:
The student's name
The absence reason
When they are likely to return to school
Failure to do so will result in Follow up action for 'Truancy', as part of the 'Rock On Truancy Project'.
You may receive a text, email, phone call and where serious Truancy occurs a 'Rock On Letter'.
Julie Haines                ( Year 1 – 8 Students)       julieh@kcs.school.nz
Jacqueline Te Huia   (Year 9 – 13 Students)      jacquelinet@kcs.school.nz
ARRIVING LATE TO SCHOOL (KAIKOHE CAMPUS):
Any student arriving late to School is required to sign in at the School Office upon arrival
Parents of young students who arrive late, will need to sign them in before dropping them off to their class
At the first class / form time of the day, the School Roll is marked and any marked 'absent' will be followed up as noted above, for attendance absences
It's important your children arrive to school on time, as this too is considered a form of Truancy
VISITORS TO OUR KAIKOHE SCHOOL CAMPUS:
All visitors who enter our School Grounds are required to sign in / out at our School Office
We take seriously the security and welfare of our students and therefore require Parents and Visitors adhere to this requirement
If it's before the first school bell and you're just dropping your children off and immediately leaving, you won't need to sign in/out
If you remain onsite, you will be considered as a 'Visitor' and therefore will need to sign in / out at the School Office
If you arrive early to pick up your child / children and it's before the final school bell, you will need to sign your child out, at the School Office
COMMUNITY NOTICES / ADVERTISEMENTS:
WA AKO NCEA HELP – TUESDAYS, WEDNESDAYS THURSDAYS – KAIKOHE:
NORTHLAND DISTRICT HEALTH – ORAL HEALTH:
GYMNASTICS CLASSES IN KAIKOHE:
Where: Kaikohe Intermediate School on Park Road
When: Every Monday of the term (all year)
Classes:
Pre school:                    3.30 – 4.10 pm     $35 per term
Recreation 5-12yrs:     4.15 – 5.15 pm     $45 per term
Advanced pre comp:   4.50 – 6.30 pm    $55 per term
Contact Karla 0274512440 or 09 4011706
KAIKOHE CLEANER AVAILABLE:
Blessings to you all and stay safe!