Years 7 – 8
Kia ora,
Year 7 & 8 are the most exciting school years.  Our learning program is enriched by education outside the classroom, EOTC, that is linked to our theme. In Term 1 this is Early Explorers.  Each day begins with karakia, himene and waiata and Devotions. The Christian Interact curriculum is tied into Literacy and following the way of Christ is core to our interactions with one another.  All students have digital portfolios that families can 'subscribe' to, keeping them up to date with what their child is learning and strengthening home/school communication.  Key messages are: Know what you are learning and why, know how to be successful, celebrate your achievements and set new goals. To see these blogs click here.
As it is the last years in primary school, students are challenged to make the most of their learning opportunities and develop leadership in areas they are passionate about such as:  worship, mihimihi, environment, kapa haka, community garden, sports and road safety.
Throughout the year there is a full, and increasingly diverse, sporting calendar supported by Komene, Te Rangi and David P. Students are privileged to have this supplemented with before school and after school training opportunities.
In Term 3 and 4 students spend a day doing Technology.
On Tuesday mornings they have Science with Mrs. Van  Winerden.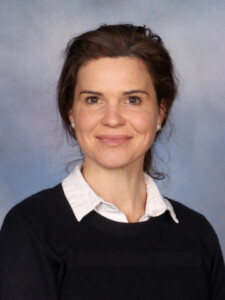 Mrs Lana Giesbers