Winter
THIS WEEK'S MEMORY VERSE: 

Week 10:
VALUE FOCUS: Compassion    SKILL FOCUS: Co-operation   GOD IS LOVING!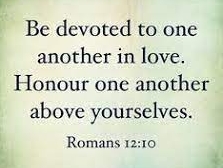 2021 Term 2: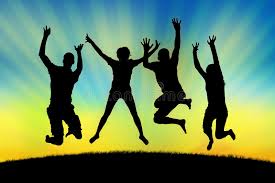 ENDS:             Friday        9 July
Yay Holidays!
2021 Term 3:
STARTS: 

        Monday     26 July

ENDS: 

           Friday         1 October
KEY DATES: 
School:
9 July             Last day of School Term 2                                                                 Both Campuses

3 August        Accord Teacher Only Day                                                                  Both Campuses
Community:
07 – 10 July    Matariki Bling Bling Toi Marama Light Festival                             Kaikohe
12 – 23 July    Kaikohe Oscar Junior Holiday Programme                                    Kaikohe Campus
12 – 23 July    Kaikohe Oscar Mid Way Holiday Programme                               Kaikohe Campus
12 – 16 July    Drivers Licence Course Union Church                                            Kaikohe
19 – 23 July    Drivers Licence Course Te Puna Wai                                               Moerewa
25 August       Girls Multi Sports Festival Years 5 & 6 Lindtvardt Park                Kaikohe
For further details please see below the heading EVENTS:
NOTICES / ACHIEVEMENTS:
TECHNOLOGY CLASSES AT MOEREWA:

Next term our students in Years 7 & 8 travel to Moerewa School for Technology Classes.
Students will need to:
Take a packed lunch
Wear school uniform, in particular, shoes so that they can take part in Workshop activities using tools.
Nga mihi mahana
David Rogers
SPONSOR A NEW MATTRESS – KAIKOHE CAMPUS: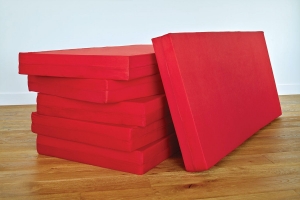 With the many Noho e.g. Overnight stays for Class excursions and the Kapahaka Roopu Training that occurs at our Kaikohe Campus , we are seeking sponsorship to be able to buy 50 new mattresses to help cater for these opportunities.
The cost to sponsor a new mattress is:  $110.00
If you feel called or are able to sponsor, please drop your koha money into the Kaikohe Campus School Office or phone 09 4011 873
Thank you for partnering with us to help extend opportunities for our Students to learn, develop and even sharpen their skills for upcoming outreaches and events.
A very good Kingdom Investment indeed.
1 JULY – WAIMATE NORTH CAMPUS CROSS COUNTRY BARGE PARK: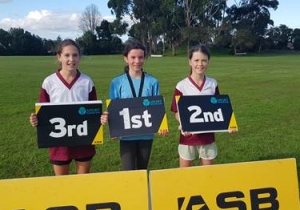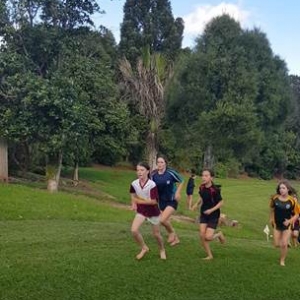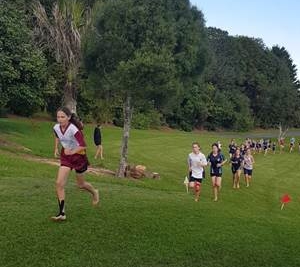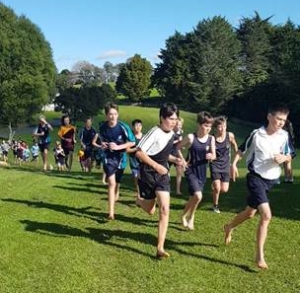 Hi All
Indea Ralph and Summer Scott ran in the Year 7 & 8 group at the Cross Country event held at Barge Park.
Both the girls ran a very similar race, after a bad start, where they were pushed to the back of the pack.
Many of the girls were tripping over each other, however by mid race, they sat in a steady position for the first lap.
The last half lap they changed gears with both coming from the middle of the pack to push up to top three.
Both made a dash.  Indea boosted forward but couldn't catch the lead runner from Springbank School, who won by approximately 20 m.
Indea came 2nd in 13minutes
Summer 3rd ten seconds later.
The boys ran against 50 runners, Zavier Scott came in 9th and James Bradley came in 41st.
The race was explosive from the start.  Couldn't tell who was in front, as all the boys jostled for position.
Halfway through the race Zavier sat middle of the pack.
Unfortunately James started to fall behind.
Zavier had a strong finish, coming from the middle to earn a convincing 9th.
2 JULY WAIMATE NORTH CAMPUS SCHOOL TRIP TO KAWITI GLOW WORM CAVES: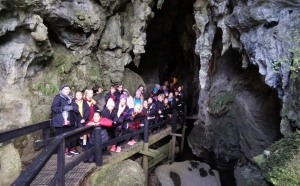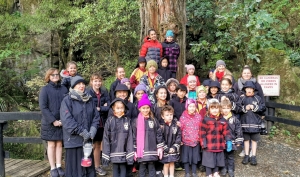 Last Friday the students from the Waimate North Campus visited the Kawiti Glow-worm Caves.
The children enjoyed the experience and learned a great deal from the guide who was extremely knowledgeable and entertaining.
They were able to see up close stalagmites and stalactites, and the glow-worms gave a sparkling show.
BOARD OF TRUSTEES – STUDENT REPRESENTATIVE ELECTION: 
Nominations are invited for the election of one student representative to the Board of Trustees.
A nomination form and a copy of this notice are being distributed to all eligible voters on the student roll.
Further nomination forms can be obtained from the school office.
Wednesday 21st July 2021: Nominations close at noon on and can be accompanied by a candidate statement and photograph.
The voting roll is open for inspection at the school and can be viewed during the hours the office is open.
There will also be a list of candidates' names for inspection, as they come to hand, on the office notice board.
Monday 23rd August 2021: The poll closes at noon
Sareya Norman (Returning Officer)
EVENTS:
7 – 10 JULY MATARIKI BLING BLING TOI MARAMA LIGHT FESTIVAL KAIKOHE: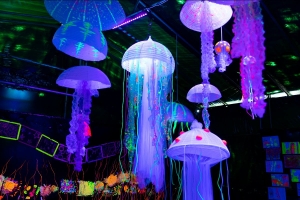 Free Family event Kaikohe
12 – 23 JULY KAIKOHE JUNIOR OSCAR HOLIDAY PROGRAMME: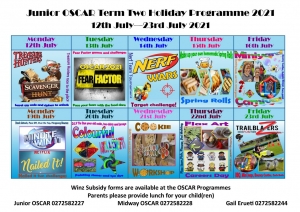 12 – 23 JULY KAIKOHE MID WAY OSCAR HOLIDAY PROGRAMME: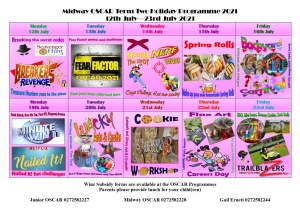 12 – 23 JULY DRIVERS LICENCE 2 COURSES – UNION CHURCH KAIKOHE / MOEREWA:
Kia ora koutou!
This is a reminder email to let you know we are running our free Learner, Restricted & Full license training classes soon
These will be our last courses for this 2020.
Monday 12th – Friday 16th July – 9 am – 1.00 pm:
Kaikohe – Union Church, Clifford Street, Kaikohe (Opposite Fire Station).
9:00am – 1:00pm
Monday 19th – Friday 23rd July – 9 am – 1.00 pm:
Moerewa Driver License, right next to the Moerewa BP
It is SO important for participants to be there on the first day and on time. A lot of very important information for the licences happens first thing (including a presentation on drugs & alcohol, driver fatigue, speed and restraints)!
Info for Learners:
Everyone intending to get their learner licence @ the AA Express by the end of the course must have access to:
1. Their original birth certificate or valid passport for their ID
2. A letter from IRD or your bank which states your home address on it
3. If you do not have valid photo ID, you will need to get a passport photo taken and witnessed/signed by someone who has known you for more than two years and who is not a whanau member
When you are ready to sit your Learner license at the AA, it costs $93.90. You can walk in any time and sit the theory test on their computer.
Info for Restricted & Full:
Come prepared with your license on your person – Laurie cannot take you for a free assessment drive if you don't have your license on you.
Laurie can provide an automatic car for the free assessment drive. If you want to drive your own car, or a manual car, you need to bring a registered and warranted vehicle for the assessment drive.
These free assessment drives are such a neat opportunity to get to know what the tester is looking for, and to get some primo tips on how to pass with flying colours!!
When you're ready to do the real thing, the Restricted License test costs $134.80 and the Full License test costs $109.50.
You need to book the official test at your local AA Express.
Other licenses and courses:
We also have the learner material for Class 2 Heavy Traffic (trucks) and Motorcycle which you can study for free
We now offer HT Class 2 Full license training and endorsement for $1,000.00 GST inc. onsite here in Moerewa.
Motorcycle Basic Handling Skills – $120
F Endorsement – $250.00
OSH – $250
Refresher – $180
F Endorsement & OSH – $350.00 for both
Wheels, Rollers & Tracks – $300 inc GST (bookings for this are based at our Moerewa site)
Our office details:
After hours cell:               021 404 178
Office:                                09 404 1274
Laurie's cell number:     021 268 1231
Premises:                          52-54 Main Road Moerewa
Hours:                               9:00am – 3:00pm
Very happy to answer any questions you may have! We wish you all the best for 2021
Nga Mihi Whanau
Moerewa Driver Licensing.
3 AUGUST – ACCORD 'TEACHER ONLY DAY':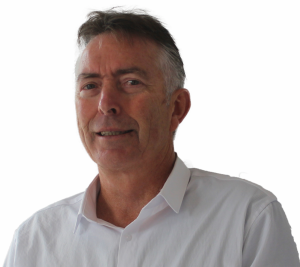 The 2nd of the Accord days will take place: Tuesday 3rd August and will be a 'Teacher Only Day'.  The School will not be open.
With the changes to NCEA being undertaken currently, there are planned days scheduled for teachers in our region to take part in specific training opportunities – these days are being called Accord Days and schools are asked to run them as Teacher Only days
The last date we are aware of is:
25 AUGUST NORTH ZONE GIRLS MULTI SPORT FESTIVAL YEARS 5 & 6 KAIKOHE: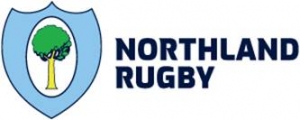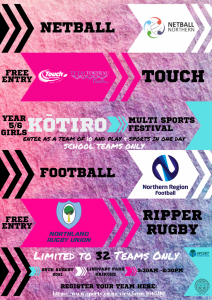 Location: Lindvart Park, Kaikohe
Details: Team of 10 to rotate through and play four codes  (Rippa, Netball, Touch, Football) throughout day, Max 32 teams registered
Registration: https://www.sporty.co.nz/viewform/166590
The Sports Festival will include Rippa Rugby run by Northland Rugby Union, Football run by Northern Football Region, Netball run by Netball Northern and Touch by New Zealand Touch. There is a cap of 32 teams for the event so make sure you get your entry form in, each team will be made up of 10 students and throughout the day each team will move around to the different sports which gives them to opportunity to play a variety of sports with other schools.
If you have any questions please let us know, Regards,
Hannah Shalders – Primary Schools Rugby Development Officer Northland Rugby Union 
M: 021 188 9384   |    www.northlandrugby.co.nz
COMMUNITY & HEALTH NOTICES:
GIRLS BRIGADE – KERI KERI:

SCHOOL BUSINESS AS USUAL NOTICES / REMINDERS:
LUNCHES BY LIBELLE – IN SCHOOL LUNCH PROGRAMME: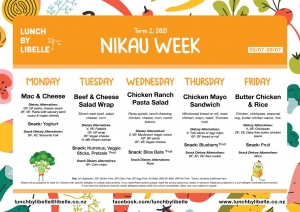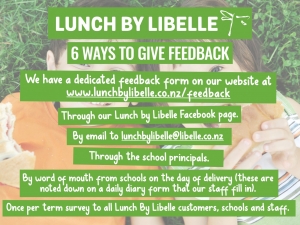 SCHOOL SORES:
We have had some cases of School Sores at our School.
School sores (impetigo) are skin infections common in school children and spread easily. They are caused by bacteria that can cause an infection.
School sores can happen even when you keep your child's skin clean. It is not a sign of poor parenting. School sores can happen on healthy skin but often happen when the skin has already been damaged by a scratch, bite or condition such as eczema or chickenpox.
The sores can be anywhere on the body, but most often appear on exposed areas such as the face (near the mouth and nose), or on the hands, arms or legs.
Symptoms:
School sores may start as a blister or a group of blisters
The blister bursts leaving a patch of red, wet skin which weeps or oozes
The spot usually becomes coated with a tan or yellowish crust, making it look like it has been covered with honey – it grows larger day by day
There can be small spots around the first spots, spreading outwards
School sores can be itchy
Spreading to others:
Infection can also easily spread to others by:
Direct skin contact
Contact with infected clothing, towels, sponges or face-cloths
Touching objects which a child with school sores has also touched (such as toys)
School sores spread easily while they are weeping or oozing
How can I reduce the spread of school sores?
Keep your child home until one day after the start of treatment

Make sure the dressings completely cover their sores

Your child should avoid swimming until all the sores have healed
Wash your child's clothes, towels and bed linen separately from the rest of the family. Wash them in hot water and dry in the sunshine or a hot tumble dryer. You can wash toys in a mild disinfectant
The following may also reduce the risk of school sores:
Take a daily bath or shower with soap and water
Practise good hand hygiene – wash hands with soap regularly
Dispose of all used tissues / dressings in a rubbish bin with a lid
Cut your child's fingernails short and keep them clean
Thoroughly wash grazes or cuts – if your child is scratching a sore, cover it with a dressing
If children present to school with untreated, uncovered school sores:
Parents will be contacted to pick up their children from school
They will be required to seek medical treatment and remain home until one day after the start of treatment
All sores must be bandaged upon return to school
See above advice of 'How can I reduce the spread of school sores?'
For further information see attached link:
https://www.kidshealth.org.nz/how-treat-when-seek-help-school-sores
Thank you for partnering with us to help keep our School Community Healthy
HEADS UP – LICE!:
Please check your children for head lice.
Lice have nothing to do with personal hygiene.  Lice love everyone, including the cleanest kid in the class!
A head louse can survive up to 4 weeks on a person's head and lay 10 eggs a day!
Lice can multiply fast so it's a good idea to treat head lice quickly.
Lice can be hard to get rid of.
Lice are insects, so the treatments for lice are basically insecticides or pesticides.
Medicated lice treatments usually kill the lice and nits, but it may take a few days for the itching to stop.
An Alternative to chemical treatments: you can try wet combing – using a fine-tooth comb on wet hair to remove nits and lice.

Kids Can

has provided the school with nit combs and nit shampoo.  If you would like some, please ask at the School Office.
SAY GOODBYE TO CHEQUES: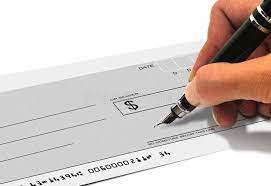 With less than 1% payments being made by cheque to some Banks, they are now being phased out as a payment option.
Please be advised that our School will no longer be able to accept Cheques as a form of payment.
Please contact the School Office 09 4011 873 should you have any queries.
PAYMENTS TO THE SCHOOL OFFICE: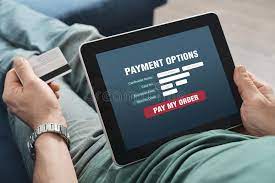 Please be informed that Payments to the School, can be made the following ways:
Online (by preference)
EFTPOS.  However we don't accept School Fees via EFTPOS.
A Cash payment, needs to be of the right amount, because we do not give out change.
Please contact the School Office 09 401 1873 for any queries
SCHOOL UNIFORMS – ORDERING ONLINE DIRECT WITH NEW SUPPLIER:
Our School Office no longer carries stock of School Uniforms
Except for:

Year 9 – 13 Velocity Jackets that can be purchased from Kaikohe Campus Office only.
There are 2 options available for purchasing the rest of the School Uniforms:
1)   Order School Uniforms Direct Online at:
Uniform Hub:
Online shopping at: https://uniformhub.co.nz/ or https://uniformhub.co.nz/pages/find-your-school
Facebook page: @northlanduniformhub
Address: 577 Kamo Road, Kamo, Whangarei 0112
Email: [email protected]
Phone: 09 435 2576
Opening hours: Mon – Fri 8.30am – 5pm & Sat 9am-12.30
2)  Order and pay at Kaikohe Campus School Office (in person)
      52 Mangakahia Road, Kaikohe
      You need to be sure of the sizes before ordering, as exchanges will incur extra costs.
SCHOOL FACEBOOK PAGE:
Kia ora Whanau,
We would like to invite you to join our Facebook page. Here you will find highlights from our week, important notices and snapshots of the learning. Please scan the QR code below to join our group, we would love to have you onboard.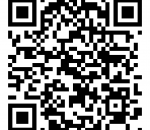 ATTENDANCE:
Reminder:  Parents / Caregivers please phone our School Office on 09 4011 873 or email by 9 am in mornings should your child / children be absent.
Should we miss your call, please leave a message on our answering phone:
Please advise the following details:
The student's name
The absence reason
When they are likely to return to school
Failure to do so will result in Follow up action for 'Truancy', as part of the 'Rock On Truancy Project'.
You may receive a text, email, phone call and where serious Truancy occurs a 'Rock On Letter'.
ARRIVING LATE TO SCHOOL (KAIKOHE CAMPUS):
Any student arriving late to School is required to sign in at the School Office upon arrival
Parents of young students who arrive late, will need to sign them in before dropping them off to their class
At the first class / form time of the day, the School Roll is marked and any marked 'absent' will be followed up as noted above, for attendance absences
It's important your children arrive to school on time, as this too is considered a form of Truancy
VISITORS TO OUR KAIKOHE SCHOOL CAMPUS:
All visitors who enter our School Grounds are required to sign in / out at our School Office
We take seriously the security and welfare of our students and therefore require Parents and Visitors adhere to this requirement
If it's before the first school bell and you're just dropping your children off and immediately leaving, you won't need to sign in/out
If you remain onsite, you will be considered as a 'Visitor' and therefore will need to sign in / out at the School Office
If you arrive early to pick up your child / children and it's before the final school bell, you will need to sign your child out, at the School Office
BREAKFAST CLUB – KAIKOHE CAMPUS EVERY WEDNESDAY & FRIDAY:
Breakfast is the most important meal of the day so please encourage your children to come to Narnia between 8:20 am-8.45 am for kai.
If anyone has jams to donate, please hand in to the Office.
We also need volunteer helpers to set up and clear up.
Please get in touch with David Prickett if you can support this mahi.
Blessings to you all and stay safe!